As an avid grilling enthusiast, there's nothing quite as appealing as Gas Grills, which deliver the sizzle of juicy steaks, the aroma of perfectly charred vegetables, and the satisfaction of gathering loved ones around the grill.
However, finding a high-quality gas grill that doesn't drain your wallet can sometimes feel like a challenging quest. We understand the passion and joy that grilling brings, and we believe that you shouldn't have to compromise on the quality of your grill just because of a limited budget.
But fear not, fellow grill lovers, because we have embarked on a mission to bring you the top 10 best gas models under $200, where affordability meets exceptional performance.
1. Char-Broil Classic 280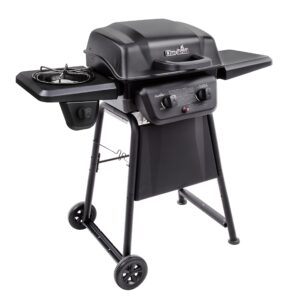 This compact but powerful model combines affordability with robust capabilities. Its two stainless steel inline burners deliver 20,000 BTUs of grilling power, ideal for a small gathering.
Its 280 square inch cooking surface is ample for about 12 burgers, while the porcelain-coated grates ensure even heating and easy cleanup. The Char-Broil Classic 280 comes with foldable side shelves, providing extra prep space and allowing you to maximize a small patio or balcony.
It also has a Piezo ignition system for reliable startups, and two 6-inch wheels for mobility.
2. Weber Q1000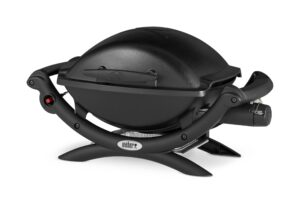 This model is known for being compact and portable. Despite its lightweight build, it comes with an 8,500 BTU stainless steel burner and offers 189 square inches of grilling space, enough for a small family. The porcelain-enameled cast-iron grates ensure excellent heat retention and easy cleaning.
The Weber Q1000 also boasts a push-button ignition for quick startups and infinite control burner valve settings for precise temperature control.
3. Cuisinart CGG-7400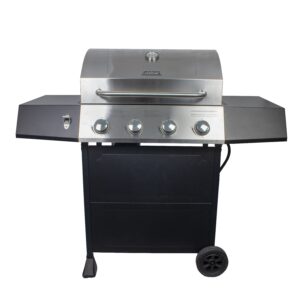 The Cuisinart CGG-7400 is a powerhouse perfect for larger gatherings. It comes with four 11,000 BTU burners, offering an impressive total of 44,000 BTUs. The main cooking area is 443 square inches, enough to cater to a large crowd.
It also features a built-in warming rack that provides additional space for grilling veggies or warming buns. Its cast-iron grates are coated in porcelain enamel for excellent heat retention and easy cleaning.
4. Blackstone 28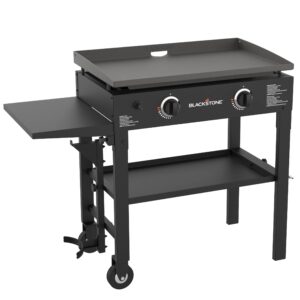 The Blackstone 28 inch Outdoor Flat Top Grill is designed for those seeking a spacious and versatile experience. It offers two independently controlled burners, delivering a combined heat output of 30,000 BTUs. With 470 square inches of flat top grilling area, you can sear steaks, burgers, and even cook breakfast or brunch.
Its easy-to-start push-button ignition and heat controls allow for a variety of grilling styles.
5. Pit Boss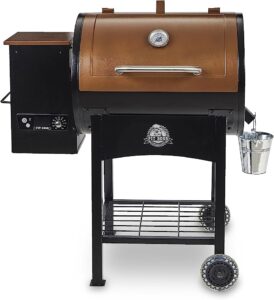 The Pit Boss Portable Gas Grill is a top choice for those who value both aesthetics and functionality. Its 10,000 BTU stainless steel burner and 305 square inch cooking surface provide enough power and space for small cookouts.
With its sleek design, stainless steel construction, and domed thermometer mounted on the lid, it combines style, durability, and functionality. It's lightweight and compact, making it a great option for those on-the-go.
6. Coleman RoadTrip LXE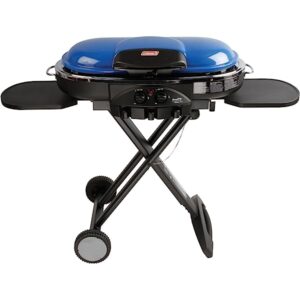 Designed for those who love to take their grilling adventures on the road, the Coleman RoadTrip LXE delivers 20,000 BTUs across a 285 square inch grilling surface. Its unique collapsible design with wheels and a handle allows for easy setup, takedown, and transport. It also features two independently adjustable burners for precise temperature control.
7. Royal Gourmet PD1300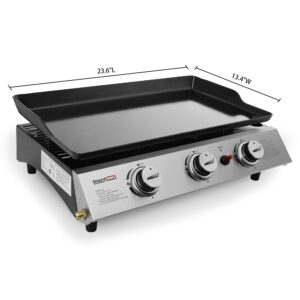 This model features three independently controlled burners that provide a combined output of 27,000 BTUs. It is perfect for larger cookoutsIts 326 square inch grilling surface can accommodate various needs, and the porcelain-enameled grates allow for even heat distribution and easy cleaning.
It also features a secure start-up with its Piezo ignition system.
8. Megamaster 720-0804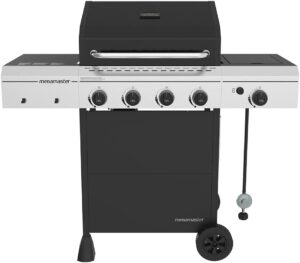 The Megamaster 720-0804 is a beast of a grill designed for those who won't let any season halt their experience.
With a primary cooking area of 474 square inches and five burners delivering a massive 50,000 BTUs, it can handle any task. It features a built-in thermometer for precise temperature control and porcelain-enameled cast-iron cooking grates for even heat distribution and easy cleaning.
9. Masterbuilt Smoke Hollow PT300B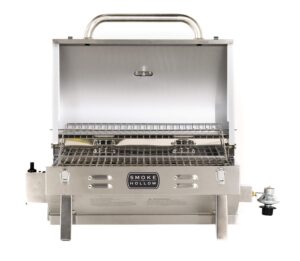 Portability meets power with the Masterbuilt Smoke Hollow PT300B. It delivers 10,000 BTUs on a 205 square inch cooking surface, making it perfect for small patios or taking your grilling on the go. It also features a stainless steel "U" burner for even heat distribution and a convenient, large-sized, chrome-plated warming rack.
10. Nexgrill 2-Burner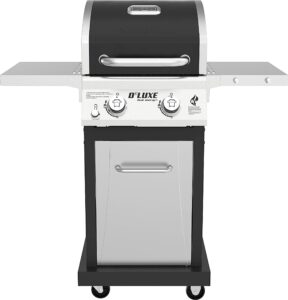 Lastly, the Nexgrill 2-Burner Portable Propane Gas Tabletop Grill offers portability without compromising on power. Despite its compact size, it provides 16,000 BTUs and a 184 square inch total cooking surface.
Its two burners allow for precise temperature control, and its stainless steel construction ensures durability. Also, its lightweight, compact design, coupled with foldable legs and a locking lid, makes it ideal for on-the-go adventures.
| | | | |
| --- | --- | --- | --- |
| | Model | Pros | Cons |
| 1. | Char-Broil Classic 280 | Excellent heat control; foldable side shelves for space efficiency; reliable ignition system | May be too small for larger gatherings |
| 2. | Weber Q1000  | Lightweight and portable; excellent heat retention; precise temperature control | Some users may prefer a larger grilling surface |
| 3. | Cuisinart CGG-7400  | Powerful; large cooking surface; additional warming rack | Larger size may not be suitable for small spaces |
| 4. | Blackstone 28 inch  | Spacious grilling area; versatile with two independent burners; easy ignition | Flat top style may not suit all types of grilling |
| 5. | Pit Boss  | Stylish design; durable; compact and portable | Single burner limits heat control options |
| 6. | Coleman RoadTrip LXE  | Portable with collapsible design; powerful; adjustable burners | Setup and takedown may be more complex compared to simpler models |
| 7. | Royal Gourmet PD1300  | Large grilling surface; independently controlled burners; easy to clean | Its size and three burners may be excessive for smaller gatherings |
| 8. | Megamaster 720-0804  | Extremely powerful; large cooking surface; built-in thermometer | Size and power may be unnecessary for casual grillers |
| 9. | Masterbuilt Smoke Hollow PT300B  | Compact and portable; large warming rack | Single burner limits heat control options |
| 10. | Nexgrill 2-Burner  | Compact and portable; two burners offer precise heat control; durable | The grilling surface may be too small for larger groups |
Always consider your specific needs and preferences when choosing a grill.
Criteria for Selection: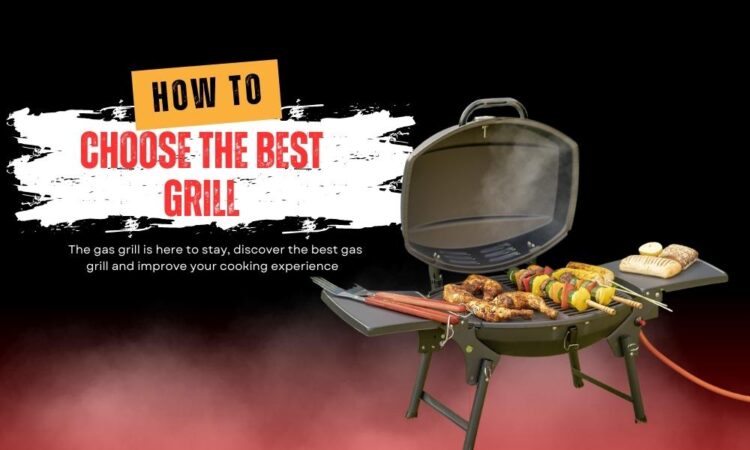 When compiling our list, we meticulously evaluated each model based on five essential criteria.
Performance
Performance is paramount to the ultimate experience. We carefully examined the grills' heating capabilities, focusing on those that heat up quickly and maintain consistent temperatures. Whether you're searing steaks or slow-cooking ribs, the ones we chose deliver the power and precision you need.
Durability
A durable model is an investment that will withstand the test of time and countless sessions. We paid close attention to the construction quality, materials used, and overall build of each model.
Our selection includes the ones that boast a robust and sturdy design, ensuring long-lasting durability even in the face of intense sessions and varying weather conditions.
Size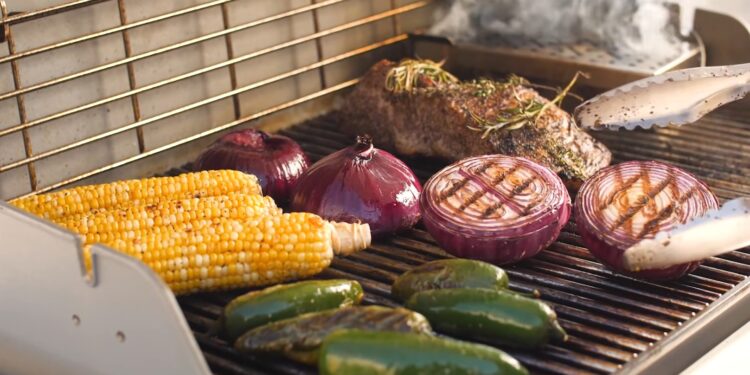 We understand that everyone has a different preference. Therefore, we sought out models that offer ample grilling space to accommodate various cooking requirements.
From hosting large backyard barbecues to intimate family gatherings, our selected models provide you with the flexibility to cook for a crowd or a cozy group without compromising on performance.
Additional Features
We believe that a great grill goes beyond its basic function. That's why we focused on the ones that come with a range of additional features to enhance your experience.
These features may include side tables for convenient food preparation, built-in thermometers for precise temperature monitoring, easy-to-use ignition systems, and other innovative functionalities that add convenience and versatility to you.
Customer Reviews
We value the opinions and experiences of actual users, which is why we took into consideration the feedback and reviews from customers who have already purchased and used these models.
We handpicked models that have received glowing reviews, ensuring that they not only meet our strict criteria but have also impressed and satisfied grilling enthusiasts like ourselves.
FAQs:
Can these models be used with propane tanks of different sizes?
Yes, most of these gas models are compatible with standard propane tanks available in various sizes, providing flexibility and convenience when it comes to fuel options.
Are they compatible with accessories such as rotisserie kits or grill pans?
Some models may offer compatibility with additional accessories such as rotisserie kits, pans, or griddles, allowing you to expand your possibilities.
How do they perform in windy conditions?
They are generally designed to be sturdy and provide consistent heat, even in mildly windy conditions. However, it is recommended to position them in a sheltered area for optimal performance.
Can these models be converted to use a different type of fuel, such as charcoal?
No, they are specifically designed for propane or natural gas use and cannot be easily converted to use charcoal as the primary fuel source.
Do they have a built-in temperature gauge?
Yes, many of them feature a built-in temperature gauge, allowing you to monitor and control the cooking temperature with ease.
Conclusion
Another thing that is important when you make your delicious food on the grill is quality dinnerware.
Purchasing a high-quality gas grill doesn't have to be a drain on your bank account. Our selection of the top 10 gas models under $200 proves that affordability and quality can indeed go hand in hand.
Whether you choose Char-Broil Classic 280, Nexgrill 2-Burner or any other model from our list, they offer a balance of performance, durability, size, and features, providing excellent value for your money.
So, let the grilling adventure begin with one of these fantastic, yet affordable, gas grills.