Who doesn't love to have a nice soothing cup of tea to wind down at the end of the day? I am sure many people want their tea ready in no time, and for that, a tea kettle for induction cooktops is a better option.
Such kettles have taken over traditional tea kettles because they boil the liquid quickly. Other benefits include their long life span and fewer spills. Moreover, these tea kettles are versatile and spacious, which has made them a necessity for every household. Let us look into the best tea kettle for induction cooktops.
Best Tea Kettle For Induction Cooktops
1. Le Creuset Enamel On Steel Demi Tea Kettle – Best Induction Tea Kettle

Regarding durability, longevity, and incredible performance, Le Cruset stands first on the best tea kettle for induction cooktops. The kettle has a plain simplistic design which I love about it. We all know how durable stainless steel is; this tea kettle is perfect for people who want it to last longer.
Le Creuset is compatible with induction cooktops and boils the water faster than usual with less heat loss in the surroundings.
The best thing about it is that it is fully coated with enamel that evenly distributes the heat throughout the tea without leaving any cold spots. In addition to that, the enamel helps retain the heat for a longer time; therefore, you wouldn't have to reheat your tea if you forget to pour it into a cup.
You don't have to grab a pot-holding glove to pick up this induction kettle from the cooktop. It comes with a cool-to-touch handle that prevents your hands from burning when it is hot.
It gets frustrating when the lid falls from the kettle while pouring. Fortunately, the Le Creuse induction kettle comes with a tight locking lid that stays firm in place when you are pouring tea or hot water.
Other than that, this incredible whistling tea kettle will let you know when the water has reached a rolling boiling point. Lastly, this little tea kettle isn't just for induction cooktops; instead, you can use it on almost all kinds of stoves.
Pros
Durable and practical
Long-lasting
Cool-to-touch handle
Overall, this small induction tea kettle is everything you need if you are a hard-core tea lover. Le Creuset will last you a long because it is built with stainless steel with an enamel coating on top.
It comes with an ergonomically built, cool-to-touch handle that allows you to easily pick a hot kettle without burning your hand. Lastly, this kettle is compatible with all kinds of cooktops.
2. AIDEA 2.3 Quart Ceramic Tea Kettle – Best Tea Kettle For Induction Stove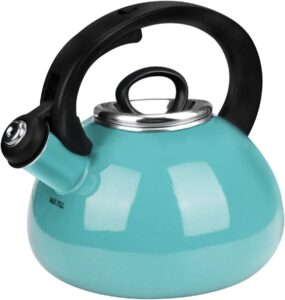 If you want your tea kettle to heat your water quickly and keep it hot for the longest time, look no further. AIDEA Ceramic tea kettle will be your best bet. This 2.3 quartz tea kettle accommodates a large quantity of tea, making it suitable for bigger families and tea parties.
The best thing about this tea kettle is that it can be used on multiple cooktops that include an induction cooktop. It offers mess-free, spill-free, and safe tea making because it is loaded with innovative features.
This induction-compatible tea kettle is made with heavy-duty stainless steel with a porcelain coating on top. The stainless steel heats the water quickly and evenly, and the porcelain coating helps retain the heat for as long as possible.
Moreover, it comes with a cool-to-touch handle that is easy to hold and comfortable to tilt the kettle for pouring tea.
Everything aside, this tea kettle boasts a beautiful design that adorns your tabletop when you are hosting a tea party. Its durable enamel coating wouldn't fade away, and the stainless steel wouldn't rust even after years of usage.
Furthermore, this incredible whistling kettle would remind you when the water has reached the boiling point every time you forget about it. The good thing is, it doesn't produce a shrieking whistle that can get painful for your ears. It also features a tight locking lid that is also cool to touch.
Apart from that, it features an innovative spout that can easily be opened by pushing the button under the handle. Lastly, the kettle's design makes it extremely easy to clean after every use.
Pros
Easy to clean
Upgraded design
Cool-to-touch handle and lid
Overall, if you have a bigger number of people in your house and all are tea or coffee lovers, get your hands on AIDEA Ceramic tea kettle. It is suitable for all kinds of cooktops, including induction stoves, and allows for a mess-free te making time.
It also comes with a whistling spout that produces a pleasant sound when the water has reached a boiling point. Lastly, it comes with a cool-to-touch handle and lid, making it safe to use.
3. SUSTEAS Stove Top Whistling Tea Kettle – Teapot For Induction Cooktop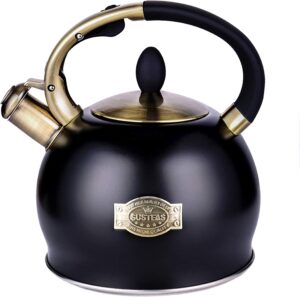 SUSTEAS Whistling Tea Kettle will grab all of your attention instantly with its supreme design. It is considered one of the best tea kettles for induction cooktops, but that doesn't mean you can't use it on any other stovetop; it works great with all.
The cool-to-touch and ergonomically built handle make it safer and easier to hold. You will also find a push button under the handle that allows easy pouring by opening up the spout.
SUSTEA whistling kettle offers unmatched durability, as it is made with superior quality surgical stainless steel, which prevents chipping and rusting. This kettle is large enough to brew tea or coffee for all the family members.
It has a 2.64 Quartz capacity which is quite ample. Other than that, the SUSTEA whistling kettle functions best when you want the water to boil faster because it has three layered encapsulated bottoms.
Not only that, but it also features an incredible whistling spout that makes a whistling sound when the water starts boiling. The cool-to-touch handle is ergonomically designed and easy to hold. It also features a cool-to-touch lid which makes it easy to remove. Last but not least, the entire tea kettle, including the spout, is hassle-free.
Pros
Durable triple-layered stainless steel
Cool-to-touch handle and lid
Sleek design
Cons
Not a multifunctional kettle
Overall, this stylish-looking tea kettle is all you want because it is durable and compatible with many kinds of stovetops. It is made with triple-layered surgical stainless steel, making it incredibly tough.
Moreover, it's cool to touch the handle, and the lid makes it safe for everyone to hold.
How To Pick The Best Tea Kettle For Induction Cooktops
The induction cooktops tea kettles are different from the regular tea kettle in many ways. Many people want to replace their traditional kettles and bring the induction cooktop tea kettles home. Here is a quick guide to all the essential features you should consider before buying a tea kettle for cooktops that function on the principles of heat induction.
Material
Such tea kettles have evolved over the years, and you will see them varying in material type. Not every tea kettle is made for induction cooktops; there is specific material dedicated to such cooktops. Therefore, you should consider which kind of material you want before buying. For instance, there are stainless steel, pot copper, and cast iron tea kettles for induction cooktops available in the market.
Stainless steel kettles are less expensive and long-lasting. They wouldn't degenerate due to corrosion after years of usage. The copper tea kettle is the safest option because it is not only good for health but also safe to touch when you boil water in it.
These kettles have higher thermal conductivity and last for years. Some kettles are made with cast iron which is the best material for induction cooktops. Cast iron is easy to clean and boils water quickly as it has magnetic properties.
Capacity
Capacity matters a lot, especially for people who don't have enough space in their kitchen cabinets. You should always buy an induction tea kettle according to the size of your family and how often you use your kettle.
There are a lot of options when it comes to capacity. For instance, the size starts from 0.5 liters to 1 liter; all of them are ideal sizes. There are also induction-compatible tea kettles bigger than the size, but they are best for commercial usage.
Durability And Design
You should always spend your hard-earned money on something that lasts a long time for you. Therefore, durability is something you should never overlook. Some tea kettles are prone to corrosion and staining; therefore, you must avoid such kettles.
Copper and stainless steel kettles are the best options if durability is your top priority. Moreover, your induction-compatible tea kettle doesn't have to look boring. You can look for a beautiful and sleek design that adorns your kitchen countertops.
Cleaning
Cleaning a tea kettle can be a hassle because you will have to take care of the internal coating. Using harsh soap and cleaning liquid might damage the internal coating of your induction-compatible kettles. Henceforth, look for kettles that have dishwasher-safe parts. This will bring extreme convenience to your life and cut your chores time by half.
Multi-Functionality
Thanks to advancing technologies, teak kettles for induction countertops aren't only limited to boiling water and making teas now. You can instead use them for many purposes. Some induction kettles allow you to cook certain kinds of food in them.
For example, rice, pasta, oatmeal, and much more. These vessels are larger and have an aluminum coating on the inside that allows for safe cooking.
Infusers And Handles
An infuser is an added feature that comes in handy when making infusion teas. You can also use these stainless steel infusers to brew tea and coffee. It is a handy feature because it prevents you from cleaning the mess caused by making tea. The tea leaves and herbs are kept by the infuser, which you can easily take or reuse later.
Another thing you should consider is whether the induction-compatible kettle you are getting comes with a cool-to-touch handle or not. There are many good-quality kettles available in the market that come with handles that don't get hot when you boil water in them. Such kettles prevent you from accidents as they are easy to handle.
FAQs
Is a stainless steel kettle suitable for conduction cooktops?
Stainless has proven to be the best material to use on induction cooktops. They are good conductors of heat and boil the liquid inside faster. Other than that, the stainless steel tea kettles are durable and long-lasting because they won't rust or corrode easily with time.
Are induction kettles faster than electric ones?
Induction kettles are faster than electric ones because less heat is lost in the surrounding air during the heating process. The induction kettles are made with material that has magnetic properties that allow them to heat up faster. They are also a good retainer of heat, so anything you are heating in it will remain hot for a longer time.
How do the induction-compatible tea kettles work?
As the name suggests, the induction kettles work on the heat induction principle. They are best for induction cooktops. The hot plate of the induction cooktop creates a magnetic field when turned on and gets extremely hot. When you place an induction-compatible on top of it, the heat travels to it, which raises the temperature to boiling the liquid present in the kettle.
Final Note
Induction kettles have taken kitchens by storm for how effective they are. These kettles heat up much faster than the regular ones due to their magnetic properties. Listed above are some of the best induction kettles, out of which this is one of our top picks due to its features and durability.
Le Creuset Enamel On Steel Demi Tea Kettle, for its versatility, durability, and simple design.
All in all, if you are a tea lover, and make tea all the time in your house, get yourself an induction kettle. The induction kettle will reduce the boiling time, and there will be less heat loss in the surroundings.
Moreover, they come in various shapes and sizes that allow you to make tea for many people. Lastly, the induction kettles will win your heart due to their multifunctionality and convenience. Look at the kettles mentioned above if you are planning on buying one.