It is high time we take our health seriously and resort to healthy and nutritious food. Deep-fried food should be a big no-no, especially in this era where health is a big concern. Thanks to modern technology for giving us air fryers where one doesn't have to go through the hassle of heating the ovens to bake, roast, and dehydrate the food.
Air fryers come in various sizes, shapes, and added features. Some features might be helpful for you while some not. The Dehydrator option never goes out of fashion. It doesn't only save your time but also allows you to extend the life of fruits and vegetables. Let us look at the 3 best air fryers with Dehydrator options and other incredible features.
Best Air Fryers With Dehydrator Option
1. Ninja AF101 Air Fryer, 4 Qt, Black/gray – Air Fryer With Dehydrator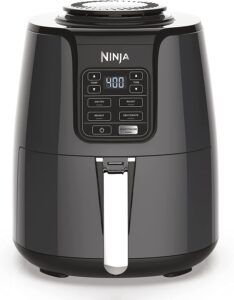 While finally deciding on a healthy and calorie deficit diet, you shouldn't settle for less. The Ninja AF101 is one of the best air fryers with a dehydrator option, to begin with. This sleek appliance has a clever design with a smaller footprint to occupy less kitchen space. It has a 4 quartz capacity which is approximately 3.8L, quite enough for a family of 5 people. What I love about this beauty is that it comes with dishwasher-safe components that give a big relief.
Its crisper plate is coated with ceramic, making it non-toxic, lightweight, and extremely easy to clean. Another best thing about Ninja AF101 is that it comes with multiple temperature options ranging from 41 to 204 degrees C, which allows you to experiment with numerous kinds of food. Other than that, it has four cooking options that are air fry, dehydrates, air roast, and reheat, which will make cooking your favorite meal a breeze. You can quickly increase the shelf life of all the healthy veggies and fruits without depleting the nutrients.
You will be stunned at how easy this air fryer dehydrator can be used. It has a sleek and simple-looking control panel at the front with all the information written on the buttons. In addition to that, you will get an easy-to-understand manual and a recipe book which is a win-win. We are sure you will be as happy with the results of this air fryer as we are.
Pros
Simple to use and sleek looking
Small footprint
Varying temperature and four cooking options
Cons
Plastic smell reported by few customers
Overall, Ninja AF101 is an easy-to-use appliance with many handy features to make your lives easier and healthier. This air fryer dehydrator is convenient to use and wash as it is dishwasher safe. Furthermore, you get multiple temperature options that allow you to cook different kinds of foods. Moreover, the dehydrator function is so effective when it comes to draining moisture from fruits and vegetables to increase their shelf life.
2. GoWISE USA GW22956 – Best Air Fryer Dehydrator Combo 2020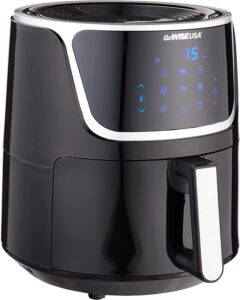 Being on a healthy diet doesn't mean you have to spend an enormous fortune on different appliances and expensive diet plans. You can get your hands on the GoWISE USA GW22956 air fryer dehydrator without burdening your pocket too much. It is considered one of the best air fryer dehydrator for its vast capacity. Its 7 quartz cooking space can feed a whole party. It is made for larger families where there is a heavy demand for fried food.
GoWISE Air fryer dehydrator has won many hearts with its 8 different cooking options. You can cook anything by heating your stove and oven. For instance, it allows you to air fry, dehydrate, grill, roast, keep warm, bake, reheat, and many more. In addition to that, this appliance is extremely easy to use with simple to understand control panel. The touch control panel is right in front of the appliance, and each function can be accessed with just one touch.
This isn't it about this incredible air fryer dehydrator. You also get a wide range of temperature options and cooking time up to 60 minutes, so there isn't anything you cannot cook in the GoWISE air fryer dehydrator. You can easily dry and dehydrate fruit and meat jerky anytime using your GoWISE air fryer. It comes with 3 stackable racks that accommodate maximum food to be dehydrated. Last but not least, it is durable, easy to clean, and sleek looking.
Pros
Large capacity
8 cooking options
Adjustable temperature
Cons
Issues with the non-stick pan reported
Overall, GoWISE GW22956 is an incredible option if you don't want to spend so much on an air fryer dehydrator. It has an excellent 8 quartz capacity, making it suitable for larger families. In addition to that, it provides easy-to-understand touch controls that are easy to use and access. Lastly, your GoWISE air fryer dehydrator has a non-stick pan and crisp tray that are extremely easy to clean.
3. Instant Vortex Plus 4 Quart – Air Fryer Dehydrator In One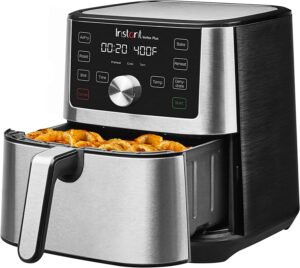 This mini air fryer/dehydrator/instant pot will instantly grab your attention with its multifunctionality and compact size. Despite being compact, it can hold large quantities of food. The instant vortex plus 4 quartz provides 6-in-1 functionality and a 3.7L capacity to air fry an ample quantity of food with its flavor and crisp intact. For instance, this mini air fryer dehydrator can broil, roast, air fry, dehydrate, reheat, and bake.
The best thing about the Instant vortex plus is that it offers smart customizable programs that allow you to cook, bake, roast your favorite kinds of meals, which require customized settings. The appliance lets you air fry the food to perfection, keep the flavors and nutrients intact, and use 95% less oil which is a win-win situation.
The easy to comprehend and use LED touchscreen control panel can be understood by a layman. You can see the cooking progress through and through on the LED control panel. Additionally, you get adjustable temperatures ranging from 49 to 205 degrees Celcius,  which allows for great diversity in cooking. Lastly, many components of the air fryer dehydrator are dishwasher safe which makes your life so much easier.
Pros
Small footprint
Vast temperature range
Easy to use and clean
Cons
Overall, the instant vortex plus is an incredible air fryer that lets you cook a wide range of recipes. Using this mini air fryer, you can air fry, bake, dehydrate, and much more. Moreover, it provides an adjustable temperature setting to let you experiment with hundreds of recipes. Lastly, this air fryer is dishwasher safe and extremely easy to use.
What To Look For In A Buying Guide
We all know that air fryers come in various shapes and sizes. The technologies keep on updating with time. Before spending your money on an air fryer, you need to do some serious homework and decide what you want. There might be extra features which you don't require. Therefore, this buying guide will help you find suitable air fryers with dehydrator options for your needs.
Capacity
The first thing you will consider is how much capacity your air fryer and dehydrator have. You wouldn't want your small kitchen counter to be wholly occupied by just one appliance. Before considering the capacity, you should keep in mind how many people you will be using it for. Other than that, kitchen space is also an essential factor in determining the capacity of your appliance.
Fortunately, air fryer dehydrators come in many sizes, designed cleverly to occupy as little space as possible. For instance, air fryer dehydrators come in sizes ranging from 3L to 6L capacities. If you have few people in your homes, you should always choose a smaller one to save money and space. A bigger capacity air fryer's dehydrators go perfect for larger families.
Temperature Control Option
Since you are looking for an air fryer that works as a dehydrator, you should check for the temperature control option. Not only will it allow you to experiment with different recipes but also you can have good control over dehydrating options. Remember that the dehydrator works when the temperature is under 100 degrees celsius therefore, it is wise to check for the temperature control option.
Is The Air Fryer Dehydrator Dishwasher Safe?
Air fryers have a lot of nooks and crannies, which can be quite a hassle to wash, especially when you are extremely busy. It is also essential to clean your air fryer dehydrator components regularly to prevent stubborn dirt build-up. Many air fryer dehydrators have dishwasher-safe components, making your life extremely easy. It is therefore recommended to look for the one that is dishwasher safe.
Energy Consumption
Yearly and monthly utility bills can be a headache for some people. We sometimes don't realize and consume a lot of electric energy, which can be problematic at the end of the month. An air fryer dehydrator that is energy efficient, is the best purchase you can make. Make sure the one you want to buy is equipped with innovative technologies that reduce your electricity bills instead of increasing them.
Safety
Safety is the primary concern of many people, especially for the people having kids roaming around in the house. Fortunately, the newer air fryers dehydrators come with many safety features to keep your mind at peace. Before you buy, look for the features like a child lock, automatic alarm system, an automatic shut-off system, etc.
FAQs
The air fryer cooks crunchy, crispy, and equally delicious food for you by circulating hot air around the food. The hot air cooks the food to perfection and retains its flavor, crispness, and nutrients. There is also a chemical reaction taking place during air frying, which is called the Millard reaction, in which the amino acids and proteins react with carbohydrates when the heat is applied. This process enhances the food taste and aroma.
How healthy is air-fried food?
Frying your food in an air fryer is the healthiest option you can ever choose. Air fried food is highly nutritious because it is free from the harmful chemical reactions caused by heated oil. Other than that, air-fried food is 80 percent less in calories than deep-fried food and has lesser fats, which makes the food utterly healthy. Lastly, the air-fried food is much crisper, aromatic, and pleasing in taste.
What is the purpose of a Dehydrator in an air fryer?
The dehydrator option in an air fryer comes in handy when you want to increase the shelf life of your food, mainly veggies, and fruits. The Dehydrators dries the food by draining excess water from the food, preventing the food from spoiling quickly. The dehydration of the food happens by low heat and fan, which slowly draws the water out of the food to increase its shelf life.
Final Thoughts
Thanks to the advancement of technologies, we can have better cooking options with less time to spend and better nutrition to extract from our food. Whether you are on a diet plan or not, using an air fryer to fry food for yourself and your family is the kindest thing you can do. Air fried food is less in calories and high in nutrients. An air fryer with a dehydrator option is a plus which helps increase the shelf life of your fruits and veggies. Here is our top best air fryer from the best air fryers with a Dehydrator option.
Ninja AF101 Air Fryer, 4 Qt, for its durability, easy usage, and multifunctionality.
All in all, living a healthy life is the best reward you can give yourself. One way to live healthily is to eat healthily. That can be achieved by cutting as much oil, fats and unnecessary calories from your food as possible. Air fryers let you enjoy your favorite food by cutting almost 80 percent of the calories. We have listed some of the best air fryers with Dehydrator options in the above section with a detailed guide to buying one for your convenience.